SUCO POS Machines
Most cashless businesses depend on the 'swiping machine' or Point Of Service machine.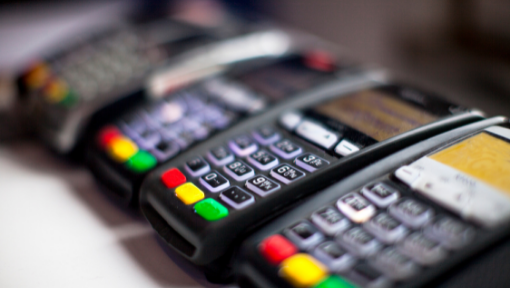 POS Machine
SUCO Bank will simplify your business process by providing a loan for acquiring POS machines. Whatever the nature of your business, you will need a POS machine. You can choose the type of machine from the various options available.
Android POS machine
This machine works with SIM card (normally used in Petrol Bunks). Following two companies are supplying this type of machines our Bank.
PROCUREMENT MODELS
Merchant customers after selecting the type of POS machine of their choice, they have a select mode of payment for the purpose of procurement of machine. There are 2 types of payment systems.
POINT OF SALE (POS) MACHINES FOR NON-CASH TRANSACTIONS
Merchant Processing Services, also known as Merchant POS, allow businesses to securely accept payments through the use of credit cards, debit cards, or NFC/RFID-enabled devices. These services allow merchants to accept a variety of cards, such as RuPay, VISA, VISA ELECTRON, MASTERCARD and MAESTRO, issued globally. In order to use these services, a merchant must obtain POS machines from a bank. The POS machines are installed at the merchant's place of business and provide instantaneous card validation, charge slip generation, and electronic settlement at the end of the day. Payments for these transactions are credited to a predetermined bank account on the next working day.

Support Material
Necessary stationery including EDC rolls and promotion materials like pamphlets, glow sign and stickers stating acceptance of credit cards shall be provided and stocks of the same shall be replenished promptly as and when required. Sarvatra will facilitate this via ICICI.

Benefits to Bank
 India is quickly moving towards digitalization.
 Merchants will open new current accounts with banks.
 New customers will be acquired as increased transactions lead to more references for new accounts, resulting in more business for banks in the long term.
 Banks can reduce customer attrition.
 Banks can utilize the merchant float.
 A continuous flow of funds in accounts helps to increase the CASA balance of banks.
 Banks can benefit from a 2% discount on GST as announced by the Government of India.
 Banks will have visibility at merchant locations which can be used for marketing purposes.

PROCUREMENT MODELS
Merchant customers have the option to choose between different types of POS machines. Once they have made their selection, they must also choose a mode of payment for the procurement of the machine. There are four options available for payment:
i) One-time cost and monthly rentals
ii) Monthly commercial charges
iii) Monthly service charges
iv) Free POS machine with no additional charges

Important Points for Merchants
Settle/Close the transaction batch every day before 10.30 pm to avoid delay in receiving payments.
Keep Receipts/Charge slips for Thirteen months from the transaction date to avoid Chargeback.

Transaction Charges
Transaction charges are the responsibility of the merchant. After deducting transaction charges from the customer's bill, the remaining amount will be credited to the merchant's current account with the bank. The transaction charges are as follows:
MDR: Below table shows the percentage of Transaction Value that the Merchant needs to pay to the Acquirer Bank.
No
Parameter
% of Transaction Value
1

Debit card transaction

If the Business is less than 20 lakhs then 0.4% transaction.

If Business is more than 20 lacs then 0.9% transaction.

2

Consumer Credit Card

1.40%
3

Premium Credit Card

2%Super Premium Credit Card
4

Super Premium Credit Card

2.50%

How it works
To facilitate digital transactions, merchants must set up payment infrastructure such as POS machines, and open a unique merchant account with a bank. Banks provide payment services; in return, merchants must pay a fee to the bank to use their payment infrastructure. This fee is called the Merchant Discount Rate (MDR).

New Android POS MACHINES
An Android point of sale (POS) system is essentially a wireless, portable cash register for smartphones and tablets with an Android Operating System. An Android mPOS eliminates the need for a clunky cash register and can carry out all of the functions of a traditional POS terminal plus more.

Procurement Cost for Android Type
There are 3 types of payment modes for procurement cost of machines under the GPRS type, which are as under.
Customers have to select any one mode of payment and request the branch through a letter specifically for this purpose.
(a) One-Time Cost & Monthly Rentals:
Customers who wish to purchase the machine by investing a one-time cost at the beginning and benefit from low monthly rental payments can opt for this type of payment when procuring an Android POS machine.
| | |
| --- | --- |
| One Time Cost | Rs. 11000 + Service Tax |
| Installation Charges | Rs. 1500 + S.T. |
| QR Code on the Same device (one time) Non-Refundable | Rs. 1000 + S.T |
| Monthly Rent | Rs. 300 + S.T |
b) Monthly Commercial Charges:
This payment option may be a better fit for customers who wish to maintain a larger balance in their current account, as it does not require any one-time costs or installation charges, and instead has reduced monthly rental charges as per the slab mentioned.
| | |
| --- | --- |
| Current  Account  Balance | Commercial Charges |
| Rs. 25000   –  50000/- | Rs. 500 + ST |
| Rs. 50001   –  75000/- | Rs.400  + ST |
| Rs. 75001   –  100000/- | Rs.300 + ST |
| Above   Rs.   100000/- | NILL |
(c) Free POS machine
This payment option may be better for customers who maintain a substantial balance in their current account. They may be eligible to receive a free POS machine for procurement. However, if they wish to have a QR code feature on the same device, they will be required to pay a one-time non-refundable fee of 1000 + GST.
(d) Monthly service charges
If customers maintain an average balance of fifty thousand in their freedom current account, they may be eligible to receive a free POS machine, however, they are required to pay monthly service charges. If they wish to have a QR code feature on the same device, they will be required to pay a one-time non-refundable fee of 1000 + GST.